Captured hand holding moments with your partner is truly a treasure. Should you like to post them in your social media handle, you need the best caption for a couple holding hands.
In this blog, I am going to suggest you 51 amazing holding hand captions. I am sure you will love them!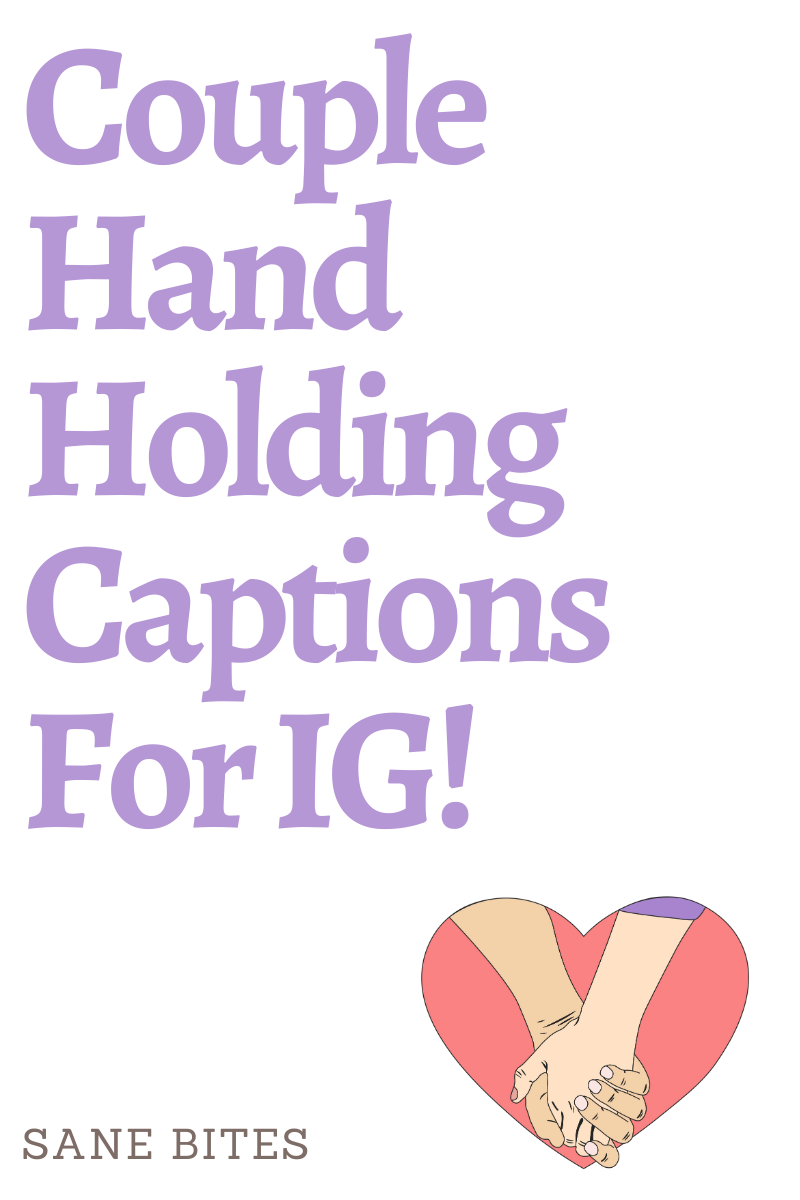 |ALSO READ : CAPTIONS FOR ENGAGED COUPLES |
51 Caption For A Couple Holding Hands!
Let's get started with a couple of short captions for holding hands!
1.
Hands clasped; to last!
2.
A lifetime with you should be fine!
3.
Hands baked; establishing our love faith!
4.
My palm when on yours, feels magically calm!
5.
Holding tight, despite the fights!
6.
Hands capped , life trapped!
7.
Time together, happier forever!
8.
Us, built on trust!
9.
Love gushes, when our hands touch!
10.
Duo represents the love logo!
11.
Nothing could shake or break our love-scape!
12.
Going strong, despite falls!
13.
When our hands hit, call it romantic!
14.
I will never let you go!
15.
To beautiful years together; forever tethered!
16.
In our love I believe, don't you dare to leave me!
17.
Your hand looks beautiful on mine!
18.
Life we plan, holding hands!
19.
Time is all ours, chatting away hours together!

20.
In love we dwell, our hands are probably under its spell!
21.
Going strong, our ties can never go wrong!
22.
Hands in love trance; romance redefined!
23.
Our hands engaged in love language!
24.
In love, hands never feel shy!
25.
When love is at its threshold, hands we hold!
26.
What is love life, without spice?
27.
When love-obsessed, hands hold onto each other without protest!
28.
Hearts speak, while the hands grip!
29.
Breathe! Love is deep!
30.
Promise is never the premise of a love that is wise!
31.
When the Sun witnesses our love's success!
32.
Let us go, till our love flows!
33.
Snow, cannot make our love slow!
34.
When there is someone to call you a loved one…
35.
Thanks a ton, I found she is the one!
36.
She is the plus, that made us!
37.
When love-engulfed, life doesn't look tough!
38.
Hands merged to form a new world!
39.
Hands clasped; love wings flap!
40.
Together, with my dear!
41.
Girl, your hand adorns my hand like a pearl!
42.
What am I without my wife?
43.
Love that is not fake, goes on without a break!
44.
Leaving it all upon you, life is going to be a breathtaking view!
45.
Energies in sync; our love cannot sink!
46.
Life looks bright; carrying on without any fright!
47.
A part of me is always in you, that is the lovely thing about being true!
48.
This is a god created link, nothing could let it shrink!
49.
Overcoming risks, all to concretise this beautiful link!
50.
Hands linked; love inked!
51.
Love at its brink; managing it all up with strong bricks!
|YOU MIGHT ALSO LIKE : SUNDAY COUPLE CAPTIONS |
I hope you liked these couple holding hands caption instagram. Let me know that one caption from above that captured your heart in the comments below!