Pictures that you click with your spouse are truly a treasure. Should you wish to share them in your social media handle, do so with the right married couple captions for Instagram.
In this blog, I give you 97 captions for married couples you should check out for sure!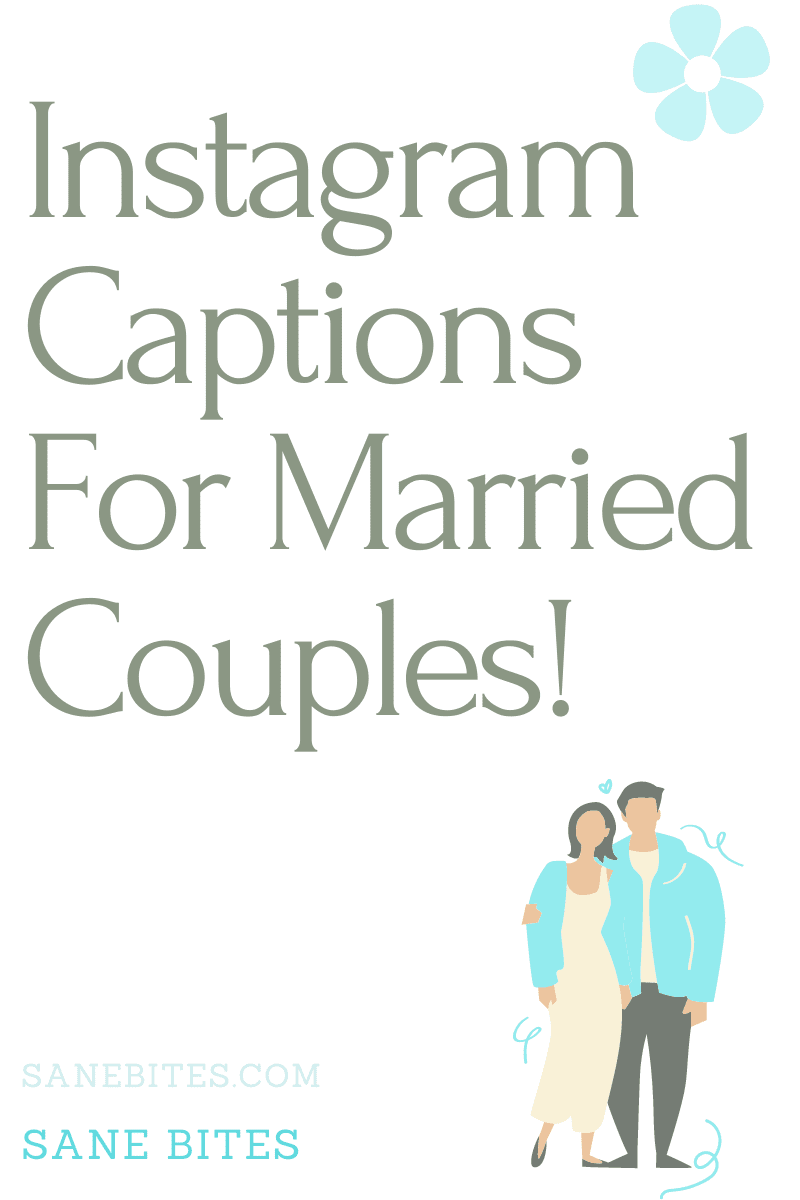 |ALSO READ : TWO WORD CAPTIONS FOR COUPLES |
97 Beautiful Married Couple Captions For Instagram!
Let's get started!
1.
Life!
2.
Sweetheart!
3.
Life pillar, soul-filler!
4.
Best friends for life!
5.
The open secret
6.
The better half
7.
My caregiver
8.
Togetherness!
9.
Pampered for life
10.
Holding hands for life!
11.
When one, our life is fun!
12.
Laughs, with better half!
13.
Another lifetime with my favourite person!
Best Quotes For Married Couples!
14.
Our relationship is an art, entwining our hearts!
15.
Whenever I am stuck in a mire, I have someone to enlighten me like the fire!
16.
I adore you, and you, me, life so feels as pleasant as sipping a ginger tea!
17.
She is my life window, and I, her shadow!
18.
Splashing hues, our lives feel like a pleasant view!
19.
Couples who are strong, pass every single day like a song!
20.
We are each other's reflection, so we never take any tension!
21.
Our bond is auspicious, so we never entertain any suspicions!
22.
If I were the garden, she would be my gardener, and vice versa, we lift each other up without allowing ourselves to be hardened!
23.
King and queen, we are born to win!
24.
When delight combines with light, it is easy to  overcome a slew of fights! 
25.
Differences exist , but we adjust our preferences!
26.
When together, the world looks sweeter and better!
27.
In travel, we marvel, that's how we live well!
28.
We are couples, who flex and show fellow couples how to de-stress!
29.
To trek with your wife is a beautiful experience, but later don't blame me if she asks you to massage her leg!
30.
Wives and fights, poor husbands, it takes immense might!
31.
Whenever I feel low, I have someone to make me glow and flow!
32.
Before we wither, together we want to relish many delicious dinners!
33.
Together we watch thrillers and savour fritters!
34.
We face relationship fissures but we overcome them because we are better swimmers!
35.
Building memories with my dearest Henry!
36.
When the husband and wife sync enough , they form a fun club!
37.
Sometimes she takes right, and I , left, that's what people call a fight. But I call it beautiful because it throws light on each others' perspective on life!
38.
Her expression, well,  I call it angry birds' HEAVEN!
39.
Serious confession : Never ask your wife any question!
40.
We have been married for five, don't we still look bright?
41.
Quality time with my wife , doesn't that pleasantly rhyme?
42.
I said, "I fell for you", and she  said, "Me too", does that still hold true?
43.
Once you dive into the ocean of marriage, you must swim together to stay alive!
44.
I don't have to write verses,to glorify our relationship trust!
45.
Marriage is a lifetime bus that feeds one with enough guts to escape from becoming nuts!
46.
From sparkling dates to spending a decade in debates, marriage is everyone's wonderful fate!
Cute Instagram Captions For Married Couples!
47.
Alas, my heart has found its fate, there is no escape…
48.
You will be blamed, that's a part of the marriage game, no sweetheart I never took your name!
49.
Being each others' guide, in the face of tides!
50.
Whenever life sends over turbulent waves, we brave and get ourselves saved!
51.
Through life's length and breadth, we stay in each other's breath!
52.
We are a couple blessed with abundant wealth because we promised to breathe together till our death!
53.
It is a beautiful feeling to sail in the ship of love!
54.
Pack your bags and travel with your love till your muscles sag!
55.
Gag yourself whenever there is a snag, this is an important marriage tag!
56.
Come what may, I will abide by your say!
57.
Life bricks built with conflicts!
58.
Planning trips, before her frustration kicks!
59.
Writing our life script, do you need any tips?
60.
Click pics and bring a smile to her lips!
61.
Learn to bow, if you wish to survive in your life boat!
62.
Fights we fix, by going on trips!
63.
Fixing our life hiccups , with Philippine tickets!
64.
Be careful with my wife, for she is always around with a knife!
65.
Whenever your better half takes charge of the throne, outside you are thrown!
66.
Adjust, so your marriage doesn't rust!
67.
Marriage club felicitates you with a lifetime dish washing scrub!
68.
Hands we hold, and growing old!
69.
She is the butterfly who keeps me smiling!
70.
Happy with this beautiful puppy!
71.
Life we happily traverse, sorry I am no good at writing verses!
72.
She is the precious cake, who keeps my life awake!
73.
Lifetime robbed, so I never sob!
74.
Don't fret, marriage is not a threat!
75.
Life is stupendous, when her love inflow becomes endless!
76.
Years we spend with each other without any fear!
77.
Soul-mates, on infinite dates!
78.
She is my life mate, all thanks to my beautiful fate!
79.
We gleam like stars , off to the love-filled Mars!
80.
Your life is free of harm, when you are blessed with a lucky charm!
81.
Do a couple-dance, you don't really need any fans!
82.
Your life becomes a feat if you are with someone who is like your heartbeat!
83.
It is ok if she frowns, because she is my queen with a crown!
84.
Whenever I fall, she instantly picks me up like a magical spell!
85.
When blessed with the most amazing creation, life indeed is a celebration!
86.
Marriage is a confusing well, escape it with travel!
87.
Travelling between responsibilities!
88.
If not for Marie, how would my life be?
89.
Eat love fritters, with someone who makes your life glitter
90.
Her, I bear, because she is my dear!
91.
For ages we plan a budget, but when it is time to take off we become a jet!
92.
Life is a win with my queen!
93.
Into your eyes I stare, and so I flare!
94.
Jump, when there is someone to lovingly kick your bum!
95.
Riding for life with my beautiful guide!
96.
One hug and since then I have been her constant bug!
97.
She is the sugar sprinkle, that never lets my muscles wrinkle!
Let me know how you liked my married couple captions for Instagram in the comments below. I would be happy to hear from you!
Happy RelationSHIPPING!