Embarrassing moments are experienced a galore while wielding your bridal attire. In case you wish to share such amusing moments of your wedding in your social media handle, all you need are some funny wedding dress captions for groom.
Here are 61 humorous wedding dress captions for groom you should Check out for sure!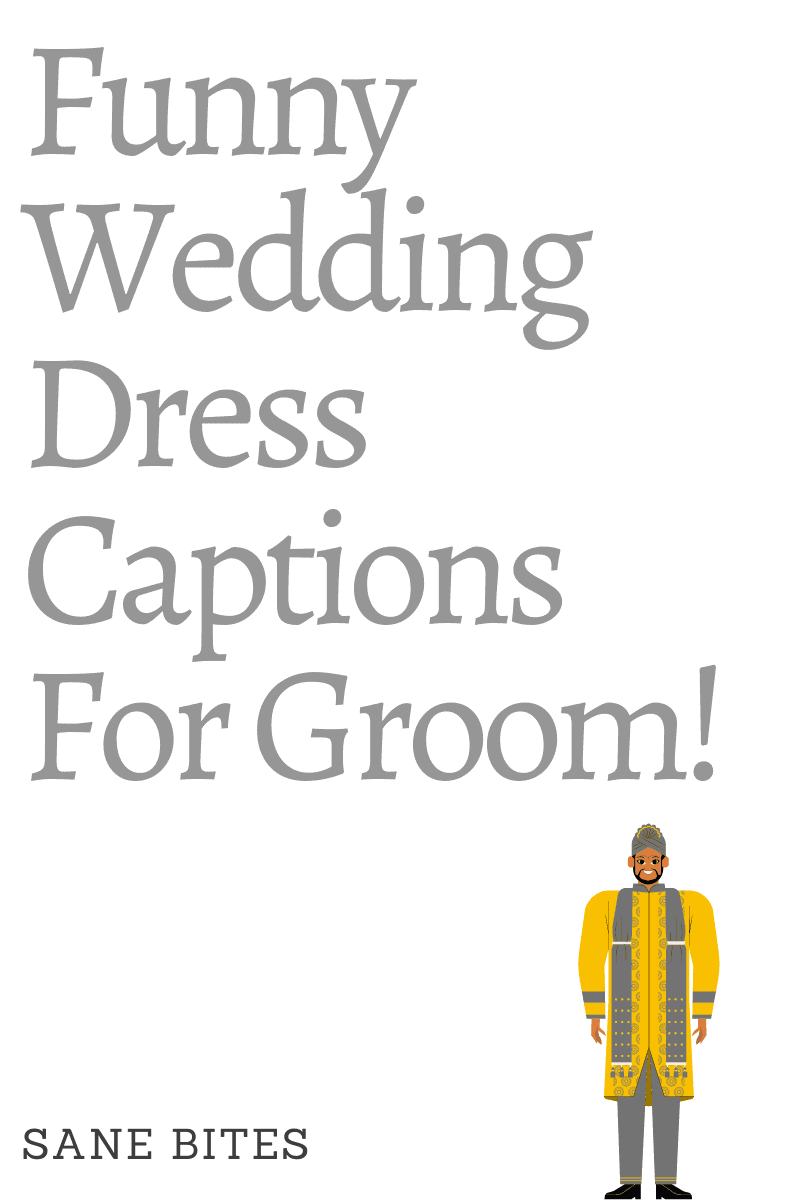 |ALSO READ : 53 FUNNY WEDDING DRESS CAPTIONS FOR BRIDE |
61 Funny Wedding Dress Captions For Groom!
Let's get started!
1.
My simple dress did not match with hers; nonetheless, it saved my purse!
2.
She wanted me to kneel down as I proposed; how could I with my trousers so tight?
3.
I wore a beautiful brooch, people thought I was a fool!
4.
Everyone talked about food, not about my outfit and its grandeur!
5.
Her heart I stole; so she made me wear this stole!
6.
I was majestically wielding the stole; people thought I behaved like a person so old!
7.
I thought I sported the most-beautiful stole until my besties began to troll!
8.
As I danced, my turban became my fan!
9.
I was trying to be happy; wish I had worn a nappy!
10.
The photographer wanted me to jump; I didn't ,afraid my bottom would behave like a water pump!
11.
What use is looking good without eating food?
12.
Wear your turban and pose like you are not feeling burdened!
13.
Feeling fried; so tired!
14.
I am not dull; my bladder is so full!
15.
I wish I could run. I can no longer pretend to be having fun!
16.
Smile when you are wearing a stole that flows for a mile!
17.
Glow, when your coat is adorned with a bow!
18.
I couldn't dance; so the poor groom had no fans!
19.
Pose bright; even when your outfit is tight!
20.
How do I dine without feeling fine?
21.
Since she wanted me to look my best, I was caught in an ethnic nest!
22.
Happy married life, beginning with an outfit strife!
23.
I was so lost adjusting to my bridal wear that I completely forgot her!
24.
Everyone asked why I was late, nobody understood my pain!
25.
Just for the bride, I was taken for a costume ride!
26.
The outfit was a perfect fit, I was afraid to even sit!
27.
I was floating in my suit; the guests remarked, "I look cute"
28.
I wish reception nights were peaceful; how to, with a costume that pulls?
29.
Dance to the peppy rap? Call it a trap!
30.
My people were impressed, seeing me in a groom dress!
31.
Tied tight by the tie; hopefully I don't die!
32.
I am a groom, but people think I will look better wielding a broom!
33.
Under the most soothing romantic music, I am enclosed by a costume that makes me sick!
34.
Dress is not a choice, even when it is time for making joy!
35.
Accessories; a true cause of wedding worry!
36.
Marriage I desired; alas, the wedding outfit in itself got me tired!
37.
She got me fooled; now even my wedding costume doesn't allow me to cool!
38.
Stunning outfit; feeling stuck like in an expensive pit!
39.
Designer piece that makes me look obese!
40.
Big day; outfit keeps happiness at bay!
41.
My bride's pick; do I look chic?
42.
Dress for the occasion, pumped up my tension!
43.
Wedding celebrations with an outfit generating colourful vibrations!
44.
My bride instructed, "Should you look relevant to the times, you should wear something elegant"
45.
My outfit could have added grace; but her, I couldn't embrace!
46.
It is good to live for tradition; but why dress heavily for it?
47.
Easy on the eyes, but pricking on the insides!
48.
If you are traditionally loyal, you need to dress royal!
49.
Don't call me king; if you are kind enough, please serve me an ice cream!
50.
If I don't look stylish, my bride will get my life finished!
51.
Looking at my formal dress, my bride was depressed!
52.
I sported a look so unconventional and my bride's mind turned dysfunctional!
53.
I think I look captivating; but why are her eyes raging?
54.
I asked her, "How is the embroidery?'', she snarled, "I am not going to marry"!
55.
I carried myself with poise; my bride was like, "How did you go for an outfit against my choice?"
56.
Dressed up not so heavy, you see this is contemporary!
57.
A dress so classy; but it all feels so messy!
58.
I managed to create a charm; but not without creating myself a harm!
59.
One can look stunning; only with sufficient funding!
60.
Dressed regal; you see, I am surrounded by guests with the eye of an eagle!
61.
Glee even when your outfit doesn't allow you to be free!
I hope you liked my funny groom wedding dress captions. Let me know that one caption you loved the most from the above list in the comments below!